People buy from people. Are they buying into you?
The Frontrunner Program by J&L Communications is a targeted solution to help business leaders and experts establish their authority on LinkedIn. According to recent research, more than half of decision makers consume thought leadership content for over an hour every week, making it one of the most effective ways to reach prospects. LinkedIn is a vital channel as four out of five of its 800 million members are driving business decisions for their respective companies.
This program has been designed for leaders and their teams who:
Would like to establish themselves as subject matter experts in their respective industry and stay relevant.
Do not have the time to focus on optimizing their LinkedIn profiles or post content on their own and need more support managing the day-to-day social media activity.
Want engagement recommendations to ensure they are connecting with the right audiences, with the right content.
Want to complement their social activity with creative assets that help their content pop for readers.
The Frontrunner Program offers different packages, including Bronze, Silver, Gold, and Platinum, each with unique components, products, and levels of service. Click here to learn more about Frontrunner and schedule time with us to discuss.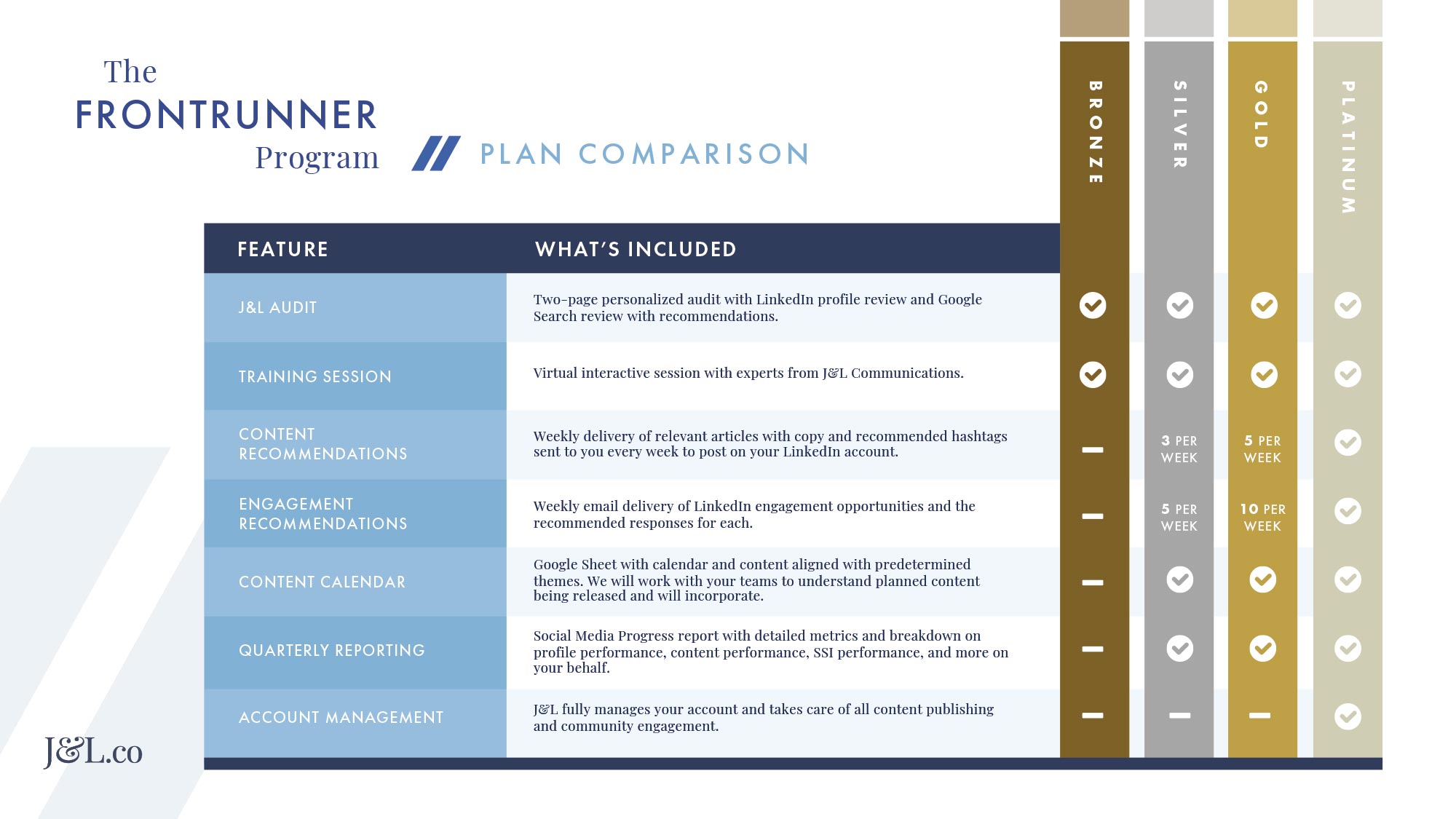 Schedule a time to learn about Frontrunner
---
We get results
Over the past 6 years, J&L Communications has trained hundreds of executives on LinkedIn and has actively managed accounts for dozens of others.
We have helped leaders improve their profiles and engage to raise awareness with clients, prospective clients, as well as with internal teams and peers.
We see significant improvement in social engagement after only a few months. After six months, we typically see:

An increased follower count of 20%
An increased engagement rate of 25%
And an increased average number of views by 25%
J&L Communications also provides:
In-person drop-in tutorials and trainings
Scheduled presentations
One-on-one profile sessions with live updates
Short guides for events and conferences
Development of short- and long-form post content
Let us help grow your personal brand — and your business.