If you are ready to join other champions of supplier diversity and communicate about how your program is making a meaningful impact in historically underrepresented communities, we want to help.
Let's Talk.
Here's how we translate the good you do for diverse suppliers into a business imperative:
Phase 1: Set the tone and set the stage.
We review your company's commitment and approach and collaborate with you to home in on your definition of supplier diversity and overall goals and objectives. Sample deliverables include:
One-page manifesto that explains the program that allows internal audiences to meet the supplier diversity team and understand what success looks like
Analyze your supply chain and spend commitments to help us define the narrative
Identify brand ambassadors in your space, and conduct interviews with senior leadership on the importance of supplier diversity from a culture and ROI perspective (these can come to life through video or other compelling content promoted internally)
Phase 2: Build foundational programs to empower your teams.
We start with the basics to get your organization started and working from the same set of content, data, and assumptions. Sample deliverables:
We create a shared digital portal and internal repository to house all supplier diversity content and data as the go-to site for your teams
We utilize our data experts to ensure that databases for all suppliers are tagged appropriately and searchable using filters so they can be easily identified based on expertise, location, or any criteria you would like
Develop your supplier diversity website content for internal and external audiences that will tell them more about your organization's specialized program
Phase 3: Develop a tailored narrative and exciting your audiences.
We also consider your diversity spend and trend data, this will be the data that we can use to measure how you compare with competitors in the market. If you are working with supplier.io or a similar company, we can take that raw data and create a narrative that starts to tell the story of the impact your company is making in communities across the country. We create all the materials to enable internal and external communications as well as arm the sales teams with a content package they can send to clients and prospects. Sample deliverables:
A deep dive into the what, why and how through the creation of a fully designed and stats-rich economic impact report that boils down to the regional level
Develop high-level talking points from the report to share with client-facing teams and regional leaders so they can include in RFPs and presentations
Develop assets for both internal and external communications campaigns such as infographics and banners for social, press releases, articles, etc. around the impact report to amplify supplier diversity and the leadership behind it
Phase 4: Go public.
We create a comprehensive, multi-channel marketing plan and custom campaign and help you execute for success. Sample deliverables:
Ongoing thought-leadership social media programs for your supplier diversity leadership designed to help them become an authority in your space on LinkedIn. J&L Communications knows that people buy people that's why we developed our targeted Frontrunner Program focused primarily on building awareness and influence through LinkedIn
Outline meaningful awards programs and create all the materials to nominate your organization
Take the economic impact report public, amplify on your website, through social channels, or any other important distribution channels
Develop one-pagers, slip sheets and battle cards for your client-facing teams
Develop ads targeted to key diversity trade publications
Develop sales training decks regarding how the supplier diversity program ads value to your client-facing teams
Development of key presentation material, scripts and speech writing materials
Line cards for your key diverse vendors
Support with compelling corporate activation with key councils like WBENC, NMSDC, etc.
Throughout our entire engagement, we monitor, measure, and adjust for success
Case Study: CDW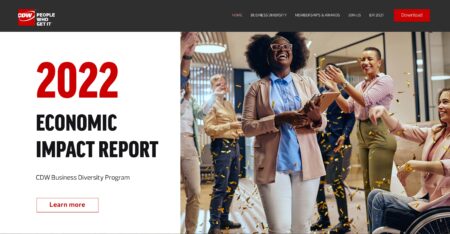 We are a strategic partner to multi-billion-dollar tech company CDW  and have helped turn their Supplier Diversity Program into
a business imperative. To create awareness and action amongst clients, suppliers and within their own sales teams we have developed dynamic go to market materials and back end data automation that allow them to showcase the program in a compelling way. For example we:
Redefined their Economic Impact Report, a report that evaluates the impact of their supplier diversity program and spend with diverse vendors on the economy both nationally and regionally. We distilled the data into a compelling
narrative, developing the story, the creative and design and interviewing key vendors we want to highlight in various regions.
Developed and supported their Mentor Protégé Program-a training program for diverse vendors in NYC supported by CDW and CUNY.
Developed their Business Diversity site and produced the introductory video from Global Head of Supplier Diversity, Kristin Malek
Built and automated their supplier databases.
Built their internal SharePoint site so that finding pertinent information on suppliers for supplier diversity, procurement, and sales teams is turnkey.
Elevated leaders and program ambassadors both internally and externally as champions of supplier diversity. This has resulted in media coverage, with Kristin Malek recognised as an influential leader to follow on LinkedIn.